Since introducing the revolutionary LED H-UV/ H-UV (LED) systems for UV, Komori reached over 1,000 units. Printers recognized the increase in printing quality and the drastic reduction of power consumption. This technology earned yet another award from the Japanese Society for Printing Science and Technology.
Komori technical solutions to all industry segments.
In my view, we are witnessing a reawakening during the pandemic to look closely at Komori for comprehensive technical solutions in different industry and manufacturing segments.
Packaging and label printers, commercial and publishers, security and financial printers appreciate the high automation levels with a minimalist design of equipment functionalities. They also understand that Komori's technical solutions focus on productivity without overlooking waste and the ecological footprint.
2020 InterTech™ Technology Award.
View full-size
PRINTING United Alliance honoured Komori for the GLX40RP, the industry-renowned 2020 InterTech™ Technology Award. The GLX40RP, a Double-Side Press, is a multicolour workhorse reverse printing machine, capable of reaching 18,000 sheets per hour with a broad range of materials such as board and synthetic rigid substrates up to 32 points.
It is the fifth time Komori has received an InterTech Technology Award. The H-UV Curing System, the Lithrone S40 press, the Komori Fully Automatic Plate Changing System (APC) and the Impremia IS29, a 29-inch inkjet, sheetfed UV printing system.
James Workman, Vice President, Center for Technology and Research, PRINTING United Alliance, explains that 'Each summer, the panel of judges scrutinize each submitted technology to evaluate its degree of innovation and potential for impacting the industry.' He noted that 'it is challenging to select the recipients since all technologies are impressive.'
Industry leaders in Canada and USA embrace Komori Technology.
The adoption of LED-UV and UV combined technologies by Pacific Northwest coast MET Metropolitan Fine Printers, Vancouver's most prestigious publishing company, demonstrates that cost savings and quick set-up times with an expanded gamut provide a competitive edge.
The industry welcomed the GXL 40 automation and productivity levels. This robust and powerful printing press leads among sheetfed printing press systems in the marketplace. Capable of handling a wide variety of stock thicknesses at high speed.
Ellis Packaging in Ontario reported reaching unprecedented productivity levels with the Komori presses. They appreciate the flexibility as they can supply customers with large and small orders. The GXL 40 automation and productivity added extra capacity.
View full size
PaperWorks, a leading full-service provider of 100% recycled paperboard and specialized folding cartons for packaging applications, has installed a fully-equipped, 41-inch, seven-colour Lithrone GX40 offset press with multiple coaters at its Greensboro, North Carolina facility.
'We were looking to expand our capabilities for key enterprise customers, as well as to expand our business in multiple high-end market categories,' Brandon Clairmont, senior vice president, sales and marketing at PaperWorks, noted.
Shinwa Seisakusyo Technological Transformation
View full size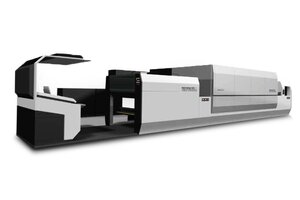 The Landa's partnership empowered Komori to introduce game-changing technological developments for the mainstream commercial, folding cartons, packaging, and short and medium run lengths. The Impremia NS 40 launched a new era Digital high-speed hybrid reproduction system with a B1 format introduced at DRUPA in 2016.
The Impremia NS 40 is the latest technological development that breaks away from the traditional offset printing technology—the combination of offset and digital inkjet technology allows the application of highly pigmented ink nanoparticles at high speed.
This novel printing process has revolutionized the industry and can produce high-quality reproductions with an expanded colour gamut with variable data. Additionally, Komori's NS 40 enables printing at the lowest cost on any substrate.
During the pandemic, a leading Japanese packaging company, Shinwa Seisakusyo, installed and put into production the first fully equipped NS 40.
---
This article's perspectives and opinions are based on the author's research and supported by information obtained from Komori R & D senior team member Engr. Takeshi Yoshikawa at the Komori Tsukuba Plant. The author's first-hand field experiences expand several years—nothing in this article demerits other printing equipment manufacturers' accomplishments.